Outdoor Advertising Systems
Give your brand or shop a unique recognition with our impressive range of outdoor advertising. These advertisements are made of finest quality of material that are highly durable and weatherproof. All the advertisings are designed in close coordination with the our customer and are engraved with quality ink that provide years of ultimate clarity. The outdoor advertising offered by us includes Glow Sign Board, Steel Letter Board, Neon sign Board, Vinyl Signage Board, Digital Glow Sign Board and more.

Display Banners
Choose from a fascinating range of display banners, which are a conventional and most economical way for outdoor advertising on a large scale. Use of high quality colors in matching combination and top standard material make our display banners first choice of quality and style conscious clients. We offer roll-up banner stands, one way vision films, advertising scrollers, display scroller etc.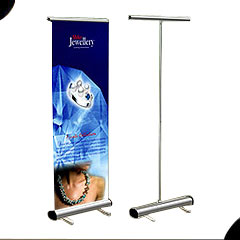 Roll-Up Banner Stand
Item code : RB-006
Roll-Up Banner Stands are portable banners that can be used for exhibitions, trade shows, product launches, hotel foyer welcome signs and reception area signage for displaying products. These banner stands are dynamically balanced and can be conveniently placed. Light in weight, our range of Roll-Up Banner Stands are available in different specification.
Scrollers

Item code : S-007
We offer an exciting range of Scrolls, which can be manually operated and easily installed. They are mostly used in shops, trade shows and commercial complexes. Our range of scrolls are available in different specification to meet the varying needs of the clients
Hoardings
Item code : H-008
We are one of the well known companies in designing, fabricating and erecting display hoardings that are the most effective advertising media. Our hoardings are of superior quality and are available in different shapes and sizes as per the requirement of our customers.
Advertisement Banners
Item code : AB-009
Our premium quality Advertisement Banners are made of high quality materials, which can even withstand adverse weather conditions. We also offer a variety of printing options to suit our client's requirements.
One Way Vision Film
Item code : OW-016
Our premium quality One Way Vision Films are made of PVC vinyl substrate, which is coated with a removable pressure sensitive acrylic black adhesive and allows stunning graphics on one side and clear, unobstructed view through the glass on the other.
Copyright 2008-13, Miri Piri Sheds & Structures Pvt. Ltd, All Rights Reserved, Powered by Miri Piri Group